Latest News at Chanpema Kennels
NEWS FOR 2011

November
Wow what a year we have had! Lara and Clarkie both got their titles at just 12 months! They have been such big winners, we couldn't be prouder! This is a summary of what they have achieved this year between the two of them:
1 X BIS Speciality (Terrier show)
2 X Best in Groups
1 X Runner up in Groups
11 x Class in show
45 x Class in groups
Over 500 challenge points between them!
All at just 12 months of age.

We also have two puppies from our second border terrier litter in the Ring. Kobie and Luke who is co-owned with B van Haasteren. Between the two of them they have already won 5 Baby in Shows and countless baby in groups! We are so proud of these puppies!

The Labradors have also been holding their own with Hayley being a consistent Best of Breed winner and is very close to her grand now. The boys have been sharing the wins with Rusty, Vinnie and Soya all being lightly shown and still managing to pick up nice Best of Breeds on their outings! We will have some nice babies to show in 2012, from two lovely litters we have had. So watch this space!

Thanks to everyone who has supported us and are proud owners of Chanpema Labradors and Border Terriers. Well done on your wins and good luck for 2012.

*** Hayley wins the Presidents trophy for Top Showing Labrador in 2012*** (Labrador Club of SA)

March-July
There has been plenty of shows with too many exciting results to mention all of them, so a Summary is. HAYLEY: Has been consitently winning the bitch challenge and is getting closer to that Grand title. RUSTY: Has only been shown a handfull of times, but those few times he has picked up a few nice wins including a large Best of Breed at SACA. VINNIE: Also has been only shown lightly but has still been in the spotlight winning a large 25 point best of breed under an international judge in July. SOYA: Our puppy is starting to get all 4 legs working together and as a result has picked up a couple of nice best of breeds and 2 puppy in groups.

For the Border Terriers. Nigel has only come out a few times but still has won a few best of breeds and classes in groups. Clarkie and Lara our Chanpema bred Border terriers have been the super starts and by the time they were stillonly 7 months Lara already had over 100 points and is still accumulating them. Clarkie has also been winning consitently and almost has 100 points already at still 8 months. Both have won multiple minor and puppy in groups. As well as both winning mutliple baby in groups. We have high hopes for these two as our first Chanpema Border Terriers.

February


We had our second weekend of shows at the end of February and we were once again very successful with the three dogs Hayley, Cloudy and Rusty we took away winning all 3 BOB's and RUBOB's against strong competition in Labradors. We also won two BOB's in Border terrier and two Puppy in groups with Tarka. Melody also enjoyed her first country weekend away and was very well behaved and won all 3 Baby of breeds.


January

Just one weekend of shows for us in January. Hayley took out two large Best of Breeds. Nigel won 2 best of breeds, and Tarka only came on the Second show to win RUBOB. Soya won both baby of breeds for the weekend.

We recieved very exciting news from India that Blair is now an Indian Champion, we wish her and Gurvinder all the best with her!


We have had 3 litters late 2010 2 Labrador litters and 1 border terrier litter and we look forward to campaigning these dogs in 2011, check the dogs individual pages for details, Soya, Jackie, Melody and Clarkey and Lara.

Hayley finishes 2010 as the #1 Labrador in SA and Nigel finsihes #1 Border Terrier in SA and #2 Nationally. DOL breed pointscore

NEWS FOR 2010


We have our first litters for 2010, two bitches are confirmed in whelp with black puppies expected. Both litters are due in early September, please email us for more infomation.


2010 has been a busy year with work, but we have managed to attend some shows with great success. Nigel has been a consistent winner, with a Best In Group and many Best of Breed wins. Hayley and her sister have been doing very well in the Labs and Hayley is accumulating points as well as cloudy who is close to her title. We are planning a few litters towards the end of the year to keep us extra busy. We also have a new addition coming soon to live at chanpema kennels.


2009 was a great year making up several champions and a grand champion. We hope to have as much success in 2010. There is limited shows in SA until March, we will post results once the showing season begins.
2010 Has started well with our young dog Rusty picking up some great points. All our dogs did fantastic at the Lab champ show, photos and critique to follow.





NEWS FOR 2009

March/April

March and April has a been a busy few months. The dogs have been doing well with Vinne and Captain both halfway to their title. Blair has also hit the ring in fine form winning several classes in group and multiple RCC from the minor class. Cloudy has also started to be shown and has already won several BCC.

We have planned a couple of litters for 2009.

The Border terriers have also been doing well with Nigel and Bonnie both being in the constant winners circle and our new addition Buttons (Dotty's son) winning Baby in Show on his first weekend out!

some of March/April highlights

7/3/09 At the Autumn international Vinnie wins a big 25 point BOB under MR A SAW HYUN (S Korea), and Blair wins Baby in Group
8/3/09 At the Autumn international Vinnie wins Puppy in group under MR S YAMAMOTO
and Blair wins another Baby in Group
9/3/09 At the Autumn international Vinnie wins Puppy in group under MS KO I SHEN
29/3/09 Captain wins a big 25 point BOB under Gundog specialist L KNOX (NSW)
10/4/09 Nigel wins RUBIG and Aust Bred in Group
13/4/09 Buttons has his debut show weekend and wins BABY PUPPY IN SHOW!!
25/4/09 Vinnie wins a Junior in Group and Buttons Baby in Group.



February

1/02/09 Adelaide Hills Kennel Club
NIGEL: Best of Breed, Shortlisted for Group
BONNIE: Bitch CC, RUBOB
BENNY: RUBOB
HAYLEY: BCC *** Australian Championship Title***

We are very proud of Hayley and her achievements, finishing her title at 13 months of age, just like her father. Hayley has had some great wins along the way and we hope to have many more with her.




________________________________________

January

2009 looks to be a great year with our youngsters of 2008 maturing nicely. We look set to have fun with the Borders, Labs, and Benny the GWP with several dogs closing in on their Grands and several on their CH titles. We also have 2 or 3 depending on timing exciting litters planned for the year.

1/1/09 The Keeshond Club of SA New Years Day Show
Judge Mrs J Ashton
NIGEL: 10 point Best of Breed

9/1/09 South Eastern Kennel Club
Judge: Grp 2 Mrs E Parker NZ
NIGEL: Best of Breed
HAYLEY: Junior of Breed

10/1/09 Southern Ag Show
Judge: Ms J O'Conner
NIGEL: Dog CC, RUBOB, Open of Bred

11/1/09 South Eastern Kennel Club
Judge: Mrs K Hardwick (NZ)
NIGEL: Dog RCC, RUBOB, Open of Breed

25/01/09 Gawler Kennel Club
Judge: Mr P King (NSW)
BENNY: Best of Breed (7 points)
BLAIR: Baby of Breed

24/1/09 ADI Dog Club
Judge: Mr F Kane (UK)
VINNIE: Puppy of Breed, Final 4 Puppy in Group
HAYLEY: 1st Place Aust Bred Bitch (Class of 6)

25/1/09 Cranbourne Dog Club
VINNIE: Puppy In Group
HAYLEY: 16 point BCC

26/01/09 ADI Dog Club
HAYLEY: Aust Bred of Breed

31/1/08 Adelaide Hills Kennel Club
NIGEL: Best of Breed, Shortlisted for Group ***GRAND CHAMPIONSHIP TITLE***
HAYLEY: BCC, RUBOB, Aust Bred of Breed
Benny: RUBOB

January was a great month for us. We were able to finish of Nigel's Grand Championship at just over 3 1/2 years. Hayley also had a great January picking up quite a few points in tough competition. Blair made her showing debut with a Baby of breed.



December

Frankie gains his title by inning Dog CC at the last show for the year!
Nigel finishes the year on 970 points.

We look forward to a great 2009!!


November

On the weekend of 21-23 of November I attended the Spring fair with Nigel and Bonnie. On Friday Nigel was Best of Breed and Bonnie was RBCC. On the Saturday Bonnie was RBCC. On the Sunday Nigel was Dog CC and Bonnie was RBCC, RUBOB. It was a great weekend catching up with all of our Sydney friends!!

More exciting news for November. On the 15th and 16th of November we attended the Junior Kennel Club Shows. Frankie came back to the show ring after a long break to mature and made his mark. On saturday he won a 23 point Best of breed and was shortlisted for the group.


On the Sunday he went 1 better and was awarded

BEST EXHIBIT IN GROUP. He also won Open in Show.

Thanks to Judge Mrs G Goller (QLD).  Benny also won 2 Best of Breeds at these shows. Captain won Junior of Breed on Sunday. Bonnie was BCC on Saturday and Nigel won another Best of breed on Sunday
.
On the weekend of the 8th and 9th we attended 3 shows at Millicent.
Evie won Best of Breed at all 3 shows and this gave her enough points for her title. Nigel won Best of breed at the middle show and went onto win Runner Up in Group. We won Best of breed with Frankie at the first show and he was RCC at the third show. Renny won RCC at all 3 shows and was junior in group at the first and third show.

Chanpema Kennels had a few successful weeks of showing. At Clare Ag Show. Nigel notched up another Best of Breed and Aust Bred in Group. Captain gained his first poitns winning dog CC. Vinnie also won Baby in Group!

The following weekend our good friend Rebecca Bush took Nigel down to Mt Gambier for us and won 2 best of breeds with him!

The frist weekend was a great weekend for us at Chanpema Kennels.

Andy "Chanpema Last Ride" got the final points he needed for his Aust Ch Title.

This is the first Labrador Champion for Amanda and Jeanie who co-own him with us and where he resides. This was our 13th Labrador Champion, and 18th champion overall. It is also Macey's 3rd Champion. Andy was beaten for Best of breed by his half sister Amber. Not to be outdown on Sunday, Hayley who is from Macey's 3rd litter and half sister again to both Amber and Andy won her first Best of breed from the puppy class and Puppy in group.

Bonnie won two best of breeds in border terriers, with Nigel winning the two dog CC's.

Our two GWP's have been having  a break from the show ring to grwo coat and they are now looking great and both will be back in the ring in November!

We also look forward to our newst litter who will hit the show ring either late Dec or Jan depending on the weather.


---

October

I decided it was time for an update again. We have welcomed some new additions here at CHANPEMA KENNELS. Vinnie 'Kirkdell Vintage Destiny' has come to join us after he was brought up here with his brothers and sisters by his adopted mum Katie after his own mum became ill. Bev Jones of Kirkdell kennels will also be campaigning Vinnie's brother and sister.

Amanda and Jeanie raised Angel's litter at their place out of GRAND CH Driftway Flash Dancer, they are running on a few pups and we look forward to seeing them in the ring soon.

I have added a few more photos and a page for Vinne

***NEWS FLASH***
Jack "AUST CH CHANPEMA JACK DANIELS" has left Australia's shores to take up residence in Japan where he will be shown and used at stud. We look forward to hearing about his success in Japan!!


August



I have added photo galleries for Hayley, Cloudy, Reeny, Rosie and there will be more to come.



---

July


Well it is time for an update! We have been very busy and successful here at CHANPEMA KENNELS, so I shall try and give a brief summary of what has happened and our plans.

We attended the 5th Lab National In WA and took over two youngsters and came home with MINOR IN SHOW with Hayley!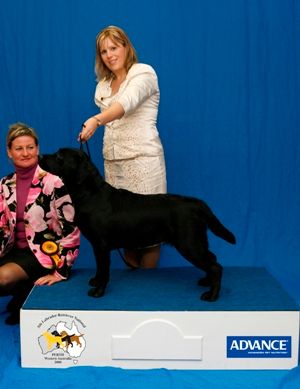 Nigel won a RUBISS at the terrier show with our good friend Rebecca Bush from Atorae GSP's handling him as on the same day we were at the Lab Champ Show in SA where Hayley won BABY IN SHOW and Andy won LIMIT IN SHOW. We also had dogs up at Red Cliffs where we also picked up a few challenges. SO a very successful weekend all round.
Andy has been doing well in the show ring and is nearing his title!
Benny, Nigel and Bonnie have all been doing very well in the show ring consitently winning CC's and BOB's.
We have also been doing great with our four young labs, Captain, Cloudy and particularly Hayley (wins mentioned above) and Chewy who is a multiple BOB winner, and multiple Baby, Minor and Puppy in Show winner.
There is new photos of nearly all the dogs on the site, so pease check them out

As you can see we have been very busy and hopefully will continue on this roll as we welcome some new members to Chanpema kennels in July and latter on in the year, as well as some exciting overseas news. Continue to check back for more updates



---

5th of May

We had a successful weekend on the 3rd and 4th of May. On the 3rd we attended 2 open shows, where we picked up Best of Breeds at both shows with the Borders, the GWP's and the Labs. Evie also won a Puppy in Group, Benny a Runner Up Best Exhibit in Group and Intermediate. Hayley won BABY IN SHOW, and Andy an Aust Bred in Group. On the 4th of May we attended the Port Pirie Benefit show, where our new Border terrier owned by Chanpema Kennels "Bonnie" (profile to come soon) gained her title with a 10point BCC and RUBOB. Benny and Evie won BOB and RUBOB respectively. Amber picked up a Bitch CC and RUBOB and to top it all off Hayley won another BABY IN SHOW!!!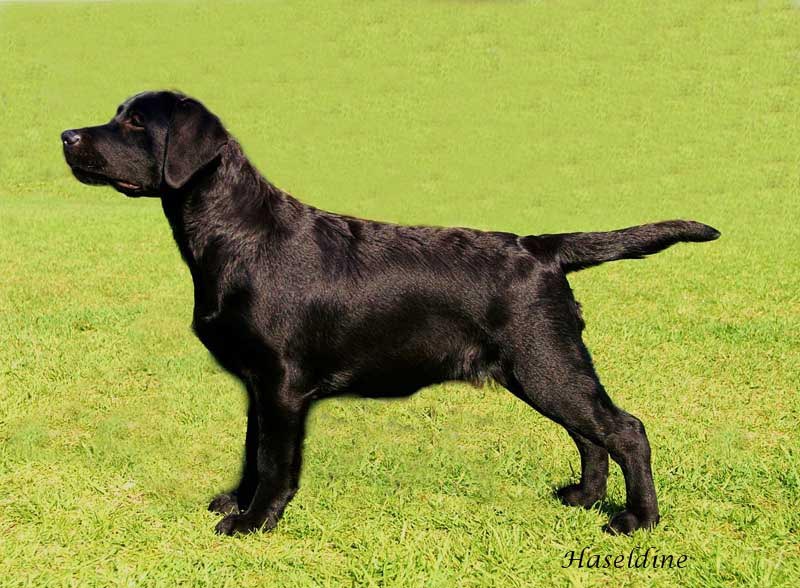 On the 29th of April Katie gave birth to 3 Black Males all doing well. This is a repeart mating of Chewy and Captain.  
---

25th March

Mathew attended the 4 shows held up at Pt Pirie on the Easter Weekend and had a very successful weekend with all 3 breeds. Benny took out 2 Best of Breeds and 1 RUBOB. Nigel took out 3 Best of Breeds and 1 RUBOB. The 2 border terrier girls we took shared Bitch CC and Maize took out one Best of Breed and 4 minor in groups. Mathew took 3 Labs away and also showed Andy "Chanpema Last Ride" co-owned with Tidswell/Leibhardt and Angel "Chanpema Light in Heaven" owned by Tidswell/Leiberhardt. At the first show Captain won RDCC and Amber BCC and BOB. At the second show Jack won BOB, Andy RDCC & RUBOB, and Angel BCC. At the third show Andy won DCC & BOB, Jack RDCC & RUBOB and Amber BCC. At the fourth show Jack won DCC & RUBOB, Andy RDCC & Amber RBCC. As you can tell it was a very successful weekend!


---



17th March



We attended a show yesterday, and had quite a successful day. Nigel the Border won Best of Breed and Dee's two Border bitches we took won BCC and RCC and Minor and Puppy in group! Benny won a 9point BOB and Evie another 7 point BCC RUBOB. Rosie won a 10 point Bitch CC snd RUBOB. What was most exciting was our new Choc boy "Chewy" who had his first show out of Baby won RCC and went on to win MINOR IN SHOW. Thanks to Judges Anne Raymond (Gundog specialist) and John Lewington. We are rapt with Chewy and hope he goes onto many more wins, and even more excited about the repeat mating of Chewy we have just done.